DATA FROM ABOVE !
Flight Plan
Pictures & Video taking
Process
Analyze
Execute

01
about us.
Flexdrone was founded in 2018 by a Ugandan-German team, registered and compliant.
We are striving to provide quality, commercial and innovative drone-based services safely and securely to all industry sectors in Uganda.
We believe the use of drone aerial imagery and data analysis, including by use of artificial intelligence (AI), can help transform Uganda and achieve many desired goals.
02
comparison.
Proof for you
Drone Survey
Time: 240 ha / day
Terrain: + Mountainous, Flat, Sparsley & Heavily Build Up – Forest, Swamp
Accuracy: 1-2 cm in X, Y and 5 cm in Z
Resolution: 400 points / m² (regular flight hight)
Conventional Survey
Time: 9.27 ha / day
Terrain: + Flat, Forest, Swamp, Sparsley Build Up – Heavily Build Up, Mountainous
Accuracy: 1-2 cm in X, Y and 5 cm in Z
Resolution: 1 point every 10m

03
Drone advantages
high spatial resolution (up to 1cm/px)
Always Precision of work, and flexibility
Easily deployable (Always saves time)
Not affected at all by cloud coverage
Produces 3D maps and models
Lowers data collection costs
Clear Live streaming of data
04
Benefits for Uganda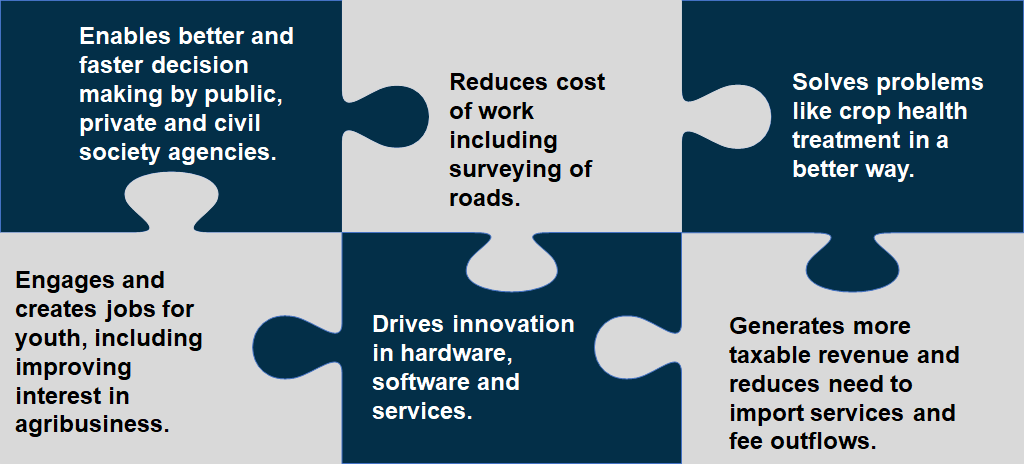 05
Services
We understand your requirements and we provide everything.
1
LAND SURVEYING AND MAPPING
We offer Aerial Surveys and Mapping by drones, the most economical and efficient way to survey. Orthophotos, topographic maps, DEM, DTM and contours surveys are easily achieved using this service.

2
PRECISION AGRICULTURE FOR CROP MONITORING
We also apply the use of drones in the field of agriculture, this is especially true for large scale farmers. Regular aerial monitoring of agricultural lands can provide us with a more in-depth analysis of crop performance with the help of the near infrared sensors, we could study the health of these crops and farmers could act accordingly.

3
ENGINEERING APPLICATIONS (CONSTRUCTION MANAGEMENT)
We also utilize drone technology to monitor in depth projects like building surveys, construction site inspection and help monitor and report progress, spot errors early on and avoid rework and also covers larger areas more efficiently.

06
Projects Completed
Satisfied Clients
Positive Feedbacks
Award
07
Our team.
With a lot of experience, we've got a well-seasoned team at our hands.
Jakob Hornbach
Founder & CEO
Ben L. Koriang
Director
Mukisa M. Fahad
Managing Director
John Goslino
Business Manager
Tusiimemukama Rebecca
Surveyor / Drone Pilot
Katsigazi Salim Swaleh
IT Manager
08
Drone Applications

09
Contact Us
Please send us your request using the form below, enter all fields then press Send Message. We assure you a response within 24 hours.
Alternatively scroll down for additional contact methods.
Here for you
Call us 24/7. We are there for your support
+256 704 623 353 / +256 791 881 756
Where to find us
P.O Box 72664, Ntinda Kigowa Rd,
Kampala,Uganda
Write to us
info@flex-drone.com